When are cats embarrassed by the habits of their owners?
2014-08-01 03:08:40
Like children and their parents, cats sometimes have to show great forbearance in the face of some of the more interesting behaviours of their "owners"!
Comedian Hugh Dennis did once reveal on popular panel show Mock The Week that his parents used to take the family cat for a walk on a lead. This apparently also included holiday expeditions climbing some fairly substantial hills.
Source: http://felineunderground.blogspot.co.uk/2010_06_01_archive.html
Let's look at some other habits, which you can judge for embarrassment levels. Of course, if you are a cat owner yourself, you might consider them to be entirely normal!
The habits of cat-lovers
Most people probably hold conversations with their friendly in-house feline, often on the grounds that they receive more sensible answers than those from spouse or children. However, when this involves providing serious responses to the occasional meow or is conducted in baby language with the addition of a lengthy series of infant-like nicknames maybe less so.
There are some other worrying signs to watch out for. Do look around your home (or that of a chosen cat owner) to check if there are more pictures of felines than humans.
Also, be alarmed by any burying face into cat's fur to check smell and make sure Tiddles hasn't been replaced by an alien moments. Failing to close the loo door in case Benji worries where I am can make sure some guests never visit again (and other family members move out as soon as is feasible).
Source: http://blog.mattressesforless.net/2013/05/pet-proofing-your-bed/
Another anxiety breeding behaviour is to sleep in an uncomfortable position to accommodate the demands of your feline accompaniment.
Finally, as owners, you are entitled to buy your cat birthday or Christmas presents but it may be a bit much to expect all other relatives and friends to do the same. However, one gift it's always worth giving is in the provision of effective pet insurance.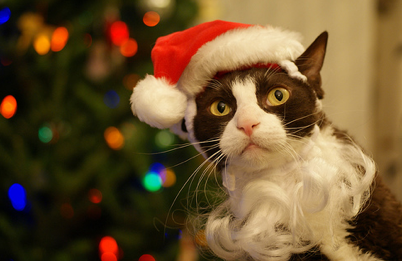 Source: http://ihavecat.com/2012-holiday-gift-guide-2/
After all, you want to know your beloved pet is well cared for, and it's really only those pesky I don't like cats people who will worry about any of the above!
All content provided on this blog is for informational purposes only. We make no representations as to the accuracy or completeness of any information on this site or found by following any link on this site. We will not be liable for any errors or omissions in this information nor for the availability of this information. We will not be liable for any loss, injury or damage arising from the display or use of this information. This policy is subject to change at any time.